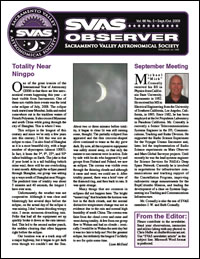 The SVAS Observer is the official newsletter of the Sacramento Valley Astronomical Society.
You can find information on upcoming club activities, special events, and articles related to astronomy in general.
Here's our May 2020 issue:
Observer May-June 2020

Submissions
Articles: Except for individually copyrighted stories, permission is granted to other amateur astronomy organizations to reproduce in whole or in part for internal non-profit use, provided credit is given to the SVAS Observer and to authors of the reproduced materials.
Submit articles: Manuscripts and letters from members are welcome via email in Word (preferred) or text format. Items may be emailed to the editor at newsletter@svas.org. Please write "SVAS Observer" in the title of your email.
Deadline for the following month's newsletter is always the 22nd of the month.
Advertising— Commercial, non-personal advertising, business card through full page, is available. Contact editor for more information. Classified advertising is free to members of the SVAS. Submit ads to editor.
Copyrighted material appears in this publication solely for non-profit educational and research purposes, in accordance with Title 17 U.S.C. section 107.
The Observer Archives
Take a look at the great collection of Lonnie's Newsletters since 2012. . .